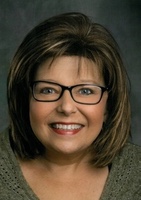 The Pueblo West Community Band morns the loss of Jennifer Marie Tibbs who passed away on June 5, 2019.
She was a successful and talented flute and piccolo player in the ensemble for many years in the flute section. She also participated in small ensembles when possible. Her ambition, skills, and personality contributed to the overall success of the section and ensemble.
During her 10-year battle with cancer, she took comfort in her music on Tuesdays giving her a way to relax and socialize with others during the long weeks.
Jen made everyone feel welcome, encouraged others when they were down, and contributed her time and effort where ever she could. She joined the ensemble along with her daughter, Taryn Tibbs on saxophone, providing a mother-daughter experience that they could share musically. Taryn Tibbs is currently in college studying to be a Music Educator.
We hope we can continue to provide the same atmosphere that Jen enjoyed with the ensemble providing a positive musical experience. Jennifer will be a missed member of the ensemble.